Tiktok App New Offer – Invite And Earn – Get 440 Per Invite – Earn Money Online
Today we will talk about the new event of Tiktok App. Make Money and Get Out?
As you know, an event has been released on Tiktok App today. Invite And Earn. You are given a referral link along with a referral code. Now you can make as many new referrals for the Tiktok App as you want. Per Invite You are getting Rs 440! Today we are going to talk about how much is true and how much is false. You can read my full article below to know the full details. But before that I want to share a few things with you.
My opinion is about Tiktok App
As you know, Tiktok App is a short video platform. You will only find short videos on the Tiktok App. Some videos are good and some videos are bad. Now it depends on you people what kind of videos you like. If you are a good person, you will escape bad videos. And you will see only good videos on Tiktok App.
Get Rs 440 Per Invite !
1: First you guys will download the Tiktok App. Then create an account with your number, Facebook or Gmail in the Tiktok App. As soon as you create an account in the Tiktok App. Then you have to click on the profile button. You will have a coin option show in yellow color at the top. You have to click on the Coin option.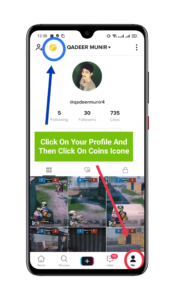 2: The first thing you have to do here is do it. Invitation Code is being requested. Here you have to apply this invitation code B9226568. You will get 30,000 points. 30,000 points equals Pakistani Rs. You can also make money by sharing your link in the Tiktok App.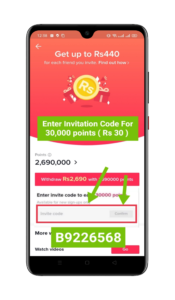 3: As soon as you click on the Invite button above, you will get your Invitation Link and Invitation Code. You can download the Tiktok App to anyone by sharing your Invitation Link on Facebook, Instagram, WhatsApp Etc. As soon as they download and create an account. Then they will put your invitation code. You will get 60,000 Points which is Rs. 60 in Pakistan. And whoever puts your Invitation Code will get 30,000 Points which is Rs. 30 in Pakistan. If you use the Tiktok App for seven days, you will get a full Rs 440. When any person creates an account in Tiktok App by entering your Invitation Code, you immediately get Rs 60 as an advance. I hope you understand me well.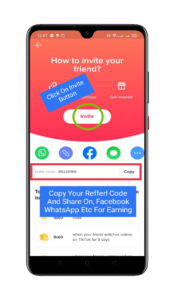 4: Now here you have this question in your mind. How can we withdraw our money from Tiktok App? You can withdraw all your money in Easypaisa, JazzCash from Tiktok App. And with that you can send loads to any of your numbers. Money is being given here without any tax.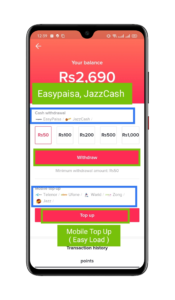 5: Now I want to show you my proof of payment. Remember that I have earned this money in just five to six days. You can see I have earned Rs 20,000 on Tiktok App. I have also withdrawn all this money in my Easypaisa account. I had put the money on withdrawal in my Easypaisa at 10:05 pm and I got the money at 4:29 pm.
I mean, I got my money in about 6 hours. All I found in the Tiktok App was that all my money was Rs 20,000 in no tax that I got in my Easypaisa account. If you are not sure that I did not get all this money,
I am just lying to you. So you guys can watch my video in which I pulled out Rs 20,000 from the Live Tiktok App to my Easypaisa. You can withdraw your money at Easypaisa JazzCash, and at the same time if you want to send a load to any number, you can also send a load to any number from Tiktok App.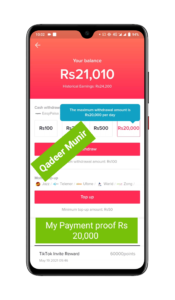 Download Now Tiktok App :
If you want to make money on SnackVideo too. So you will get all the details about it. You can view and read everything by clicking on the link below.

B9226568
Copy Invitation Code :
And also tell me, man, the way pornography is burning on Tiktok App, it will also run on SnackVideo. So please avoid such things. There are two sides to everything, one is positive and one is negative. Follow the pages or make a positive video. It is better to dance in the street and earn money than to make money by dancing.
What's the point of dancing online? So today I have told you the best way to make money. How do you guys download the application and where do you guys make money? I have told you everything above. I hope you enjoyed today's article. Thank you so much for your love. See you later, take care of yourself.